AFTERLIGHT
Collaboration between Virginia Broersma and Natalie Mik
Museum of Latin American Art, Long Beach, CA
May 12, 2018
AFTERLIGHT is a collaborative installation by Long Beach-based artists Virginia Broersma and Natalie Mik. Interested in the human body as a site where power is contested and negotiated, the artists offer an artistic reassessment of the body with regards to issues of historiography, gender, and visibility politics. The installation uses the mediums of performance, video, and painting to remember forgotten and invisible bodies through ideas of ephemerality and permanence. Begun as a conversation in their project "A Performance Artist and A Painter Walk Into A Bar..." this piece is a continuation of the attempt to connect through seemingly incongruent mediums. In keeping with the open nature of the project, Mik and Broersma invited a third voice - that of Virginia Arce - to contribute a text piece that is included in AFTERLIGHT.
PRESS: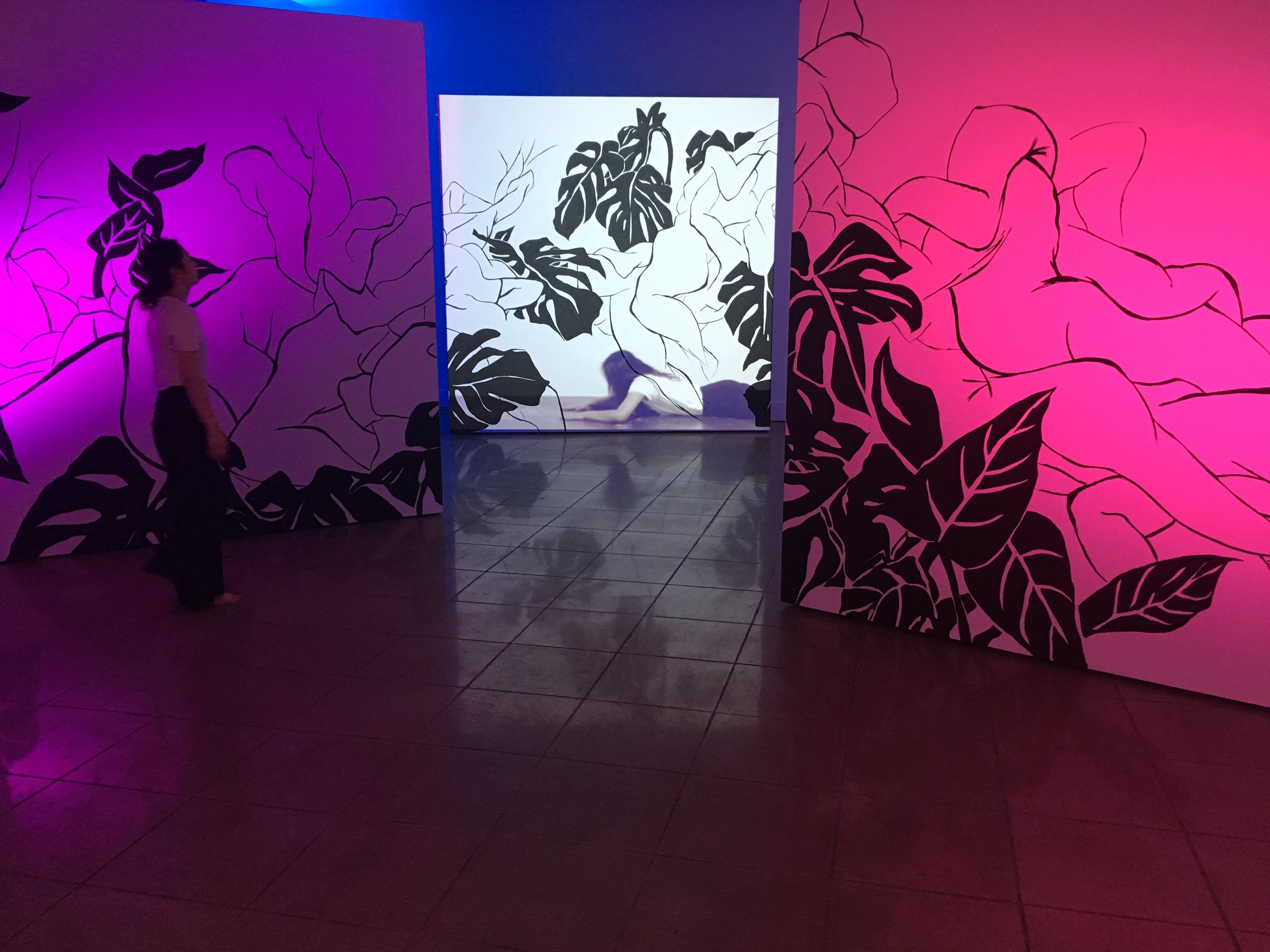 Afterlight
retrospect
a prospect of the past
What space do you occupy in time?
This room is a memory in waiting
Light, line, space, and gesture are temporal
This room is an echo
You construct the past endlessly
You rebuild it on the surfaces of feelings
What is true of memory?
We conspire against forgetting
This is the paradox of the archive —
it effaces the past for the sake of the present
Why do you remember what you remember?
You can't exist outside of time
But you can trouble the archive
ask
Why do you forget what you forget?
think
Where does memory happen?
return
The suppressed to their rightful place
retrospección
una posibilidad del pasado
¿Qué espacio ocupas en el tiempo?
Este cuarto es una memoria en espera
Luz, línea, espacio y un gesto temporal
Este cuarto es un eco
Construyes el pasado interminablemente
Lo reconstruyes sobre las superficies de sentimientos
¿Cual es la memoria verdadera?
Conspiramos contra el olvido
Esta es la paradoja del archivo:
borrar el pasado por el bien del presente
¿Por qué recuerdas lo que recuerdas?

No puedes existir fuera del tiempo
Pero puedes perturbar al archivo
pide
¿Por qué olvidas lo que olvidas?
piensa
¿Dónde ocurre la memoria?
regresa
Los suprimieron de su legítimo lugar
NIGHT AND DAY
Collaboration between Virginia Broersma and Jorge Mujica, 2018
Jorge Mujica is a Mexican artist living in Long Beach, CA. His imagery is created using line drawings influenced by Aztec iconography. The subject matter of each design poetically reflects the exuberance of a physical presence and in this respect acts a a portrait. For this collaboration, Mujica invited Broersma to paint on one of his freestanding paintings (FSPs). Broersma has been making paintings that explore the semi-private/public spaces of pools and hot tubs as a site of awareness of the body. She used the interrupted shape of the cutouts to emphasize the disruption of the human form, which she also does in her paintings by using deviation and invention in the way she depicts the body. In this piece, night and day exist on opposite sides of the FSP, highlighting the different sensations the sun and the glow of an illuminated pool at night can have on our perceptions of our own self.
This piece was exhibited at Lük Studio in Los Angeles and with CACtTUS in Long Beach, CA in February 2018, and at the Other Places Art Fair in March 2019.
PRESS
A PAINTER AND A PERFORMANCE ARTIST WALK INTO A BAR
Collaboration between Virginia Broersma and Natalie Mik
Grab Bag Studio, Long Beach, CA
June 5 - 25, 2017
When Natalie Mik asked Virginia Broersma to show her work for an exhibition at GBS, both quickly realized that collaborating on a conversation-based and process-oriented community project could be an interesting and challenging endeavor. As both artists who also work as curators, Broersma and Mik are interested in interdisciplinary dialogue. While Mik's practice looks at art through the lenses of performativity, Broersma identifies herself primarily as a painter, yet through conversation, they found common ground with specific themes and motivations within their work.
"If we as artists are considering similar things, how do a painter and a performance artist collaborate/communicate? Is a translation needed between our mediums, and what would that be? If we are both dealing with (re)presentation but in different ways, what is the thing/idea/source we are representing - the thing we have in common perhaps?" (text from email exchange)
"A Painter and a Performance Artist walk into a Bar..." creates artistic modes and strategies to these questions. Over the month of June, Mik and Broersma will begin the process of collaborating or perhaps better put, figuring out how to collaborate. The rules have to be reinvented. There will be no set goals, no formalized expectations but more willingness to trust each other. A dialogue with an experimental spirit and an openness to listen to each other will over the course of the month be documented in the space with remnants, notes, ideas, and unforeseen materializations.
On Saturday, June 3rd, their process opens to the public and the local art community. Grab Bag Studio invites you to join their conversation on how to collaborate. We will think about ideas of communication, cross-disciplinary work, how an idea materializes, how bridges are formed. Mik and Broersma found their common ground with themes surrounding the representation of the body and the collective archive and how these shape and define us as people. Diverse points of view and perspectives on these topics are invited and welcomed.
Grab Bag Studio encourages experimentation, testing out ideas and developing community and this shared process will be a way of tracking the development of an idea.
PRESS: