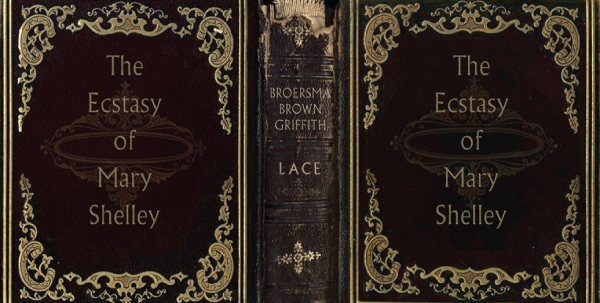 THE ECSTASY OF MARY SHELLEY
Los Angeles Contemporary Exhibitions (LACE)
6522 Hollywood Blvd., Los Angeles, CA 90028
January 5 – February 12, 2017
Curated by Virginia Broersma, Nick Brown and Kio Griffith as part of the Emerging Curators Program and funded in part by the Andy Warhol Foundation.
"With an anxiety that almost amounted to agony, I collected the instruments of life around me, that I might infuse a spark of being into the lifeless thing that lay at my feet…when, by the glimmer of the half-extinguished light, I saw the dull yellow eye of the creature open; it breathed hard, and a convulsive motion agitated its limbs." – Mary Shelley
There is a striking parallel between the moment when an idea hits and the moment life is conducted into Dr. Frankenstein's monster in Mary Shelley's tale of a scientist's Promethean experiment. Transformation occurs with a zap of electricity, a lightning strike, a neuron firing in the brain. The trajectory of life can be converted, mutated, revolutionized with a single flip of the switch. Ecstatic religious experiences, Satori or enlightenment, transmogrification, race, gender and sexual identity…what are the techniques, interventions and impetuses of these perceptual shifts and transformations? How do they manifest themselves and how are they maintained?
As with St. Teresa of Avila's experience of rapturous thrusts to her heart – "So surpassing was the sweetness of this excessive pain, that I could not wish to be rid of it." – transformation often comes with both pleasure and pain, agony and ecstasy, a dopamine high careening downward to lycanthropic depths.
The Ecstasy of Mary Shelley as an exhibition and lab will combine artists whose work exists in this space of conductivity between ecstatic highs and monstrous lows. Overlapping strategies run throughout the various artists' works such as subverting a point in history or tapping into the ritualistic performances of the body; surrealistic dream imagery relating to the detritus of real life. As artists themselves, the curators have taken the idea of an exhibition and have used it as an opportunity for imagining how the agglomeration of these works will breathe life into the monster, or perhaps into a rapturous encounter, which remains to be seen.
Artists: Cassils, Nathan Danilowicz, Valerie Hegarty, Naotaka Hiro, Annie Lapin, Candice Lin and Gala Porras-Kim
PRESS:
Artillery Magazine
CARLA
Art and Cake
Super Mario's Art
Visual Art Source
Only in Hollywood
Wall Street International
--
A panel hosted by LACE and moderated by art ltd. editor George Melrod called "Curators: Emerging into what?" was held during the exhibition. Panelists included: Virginia Broersma, Co-curator of The Ecstasy of Mary Shelley; Idurre Alonso, Curator of Latin American Art at the Getty; Michael Duncan, Critic and independent curator.
AFTER EDEN
MuzeuMM, 4817 W. Adams Blvd., Los Angeles, CA 90016
July 18 - August 2, 2015
Curated by Virginia Broersma.
After Eve and Adam were expelled from the Garden of Eden, they were faced with the awareness of their bodies. Shame, transgression, the stigma from nakedness and an impulse to hide were introduced to their lives. The artists in AFTER EDEN each work with the body in various ways. They poke and prod at the trappings of our skin and our flesh, which are entangled in symbolism and our own associations and stories. How image is created, how the body is understood and received, how we use our own bodies and how we share in agency with others' bodies are all questions considered.
The art presented departs from conventional portrayals of the human form and image. These works allude to the body in unfamiliar ways that are often intimate and complex. There is an undercurrent of what the body can symbolize in terms of identity, the self, one's psychology and how these change when associated with an other. Transgression and transcendence, the abject and the seductive, beauty and the grotesque are all intermingled — their borders confused and overlapping.
Artists: Tanya Batura, Virginia Broersma, Michelle Carla Handel, Tom Dunn, David French, Liz Nurenberg, Cindy Rehm, Julia Schwartz, Kiki Seror, Meghan Smythe and Joey Wolf.
PRESS: